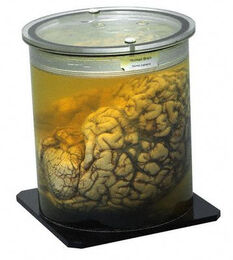 Type of Artifact

Body Part

Danger Level

Medium

Current Location

Dark Vault

Agent(s) who Retrieved

Unknown

Also known as

Unknown

Country of Origin

Unknown

Effects

Turns people nearby the person holding it incompetent

Activation

Touching the object

Limitations

Unknown

Area Effected

30-foot radius around the person holding the brain

Time Effects are Active

Unknown

How to Handle

Usual protocol

Unknown
Ad blocker interference detected!
Wikia is a free-to-use site that makes money from advertising. We have a modified experience for viewers using ad blockers

Wikia is not accessible if you've made further modifications. Remove the custom ad blocker rule(s) and the page will load as expected.