Alessandro Volta's Lab Coat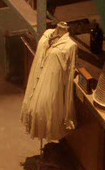 Type of Artifact

Clothing

Danger Level

High

Current Location

Warehouse

Agent(s) who Retrieved

Unknown

Also known as

Unknown

Country of Origin

Unknown

Effects

When it and its protection glasses are worn, it temporarily increases the user's biomagnetic attraction. However, for every metallic object it attracts to the wearer, the biomagnetic attraction increases, causing danger over time. This is because at a certain point the wearer no longer has the strength to remove the coat and is crushed to death. It can be "discharged" by use of electricity. The reason it is in the Warehouse is because Volta could not control the coat's power.

Activation

Wearing the coat and glasses

Limitations

Unknown

Area Effected

Unknown

Time Effects are Active

Unknown

How to Handle

Usual protocol

A lab coat that belonged to Alessandro Volta.