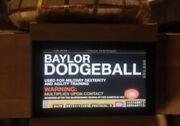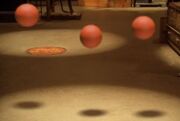 This dodgeball appears to be very bouncy and gives off an unusual sound when bouncing. It was used for military dexterity and agility training but it multiplies upon contact and it hits you when you turn your back. It was acquired by the Warehouse after the bludgeoning deaths of five cadets in 1972. In order to cease its bouncing and multiplying, a person must catch one of the balls.
Ad blocker interference detected!
Wikia is a free-to-use site that makes money from advertising. We have a modified experience for viewers using ad blockers

Wikia is not accessible if you've made further modifications. Remove the custom ad blocker rule(s) and the page will load as expected.