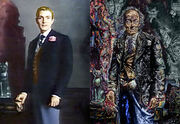 A portrait of Dorian Gray painted by Basil Hallward; the picture aged in Gray's stead. No matter what he did, his physical form would not change from the way it was when the portrait was painted. Destroying the painting causes the effect to immediately cease, aging Dorian rapidly and, indeed, leading to death. Based on Oscar Wilde's novel The Picture of Dorian Gray.
Ad blocker interference detected!
Wikia is a free-to-use site that makes money from advertising. We have a modified experience for viewers using ad blockers

Wikia is not accessible if you've made further modifications. Remove the custom ad blocker rule(s) and the page will load as expected.