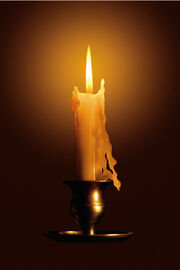 Acquired by an agent a few decades ago. Artie said "Heaven help us all if either end were ever lit again" when asked about it. Effects unknown.
Edna St. Vincent Millay was an American playwright, poet, and feminist in the 1920's. She won the Pulitzer Prize for poetry in 1923 for her "The Ballad of the Harp-Weaver" . She was the first woman to win an award in poetry and was also known for her activism and her many love affairs. Her poem "First Fig" had a line: "My candle burns at both ends. It will not last the night. But, ah, my friends, and oh, my foes, it gives a lovely light."

The candle causes the room/building it is lit in to burst into flames, growing in intensity the longer it burns.