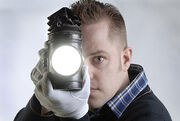 Background
Edit
A lantern used by Jack the Ripper during his killing spree in 1888; while Jack himself was never found, his lantern was, still carrying out his murderous will.
Anyone caught in the light of the lantern's beam becomes transfixed, unable to think or move while trapped in its glow. If the lantern is suddenly removed, those hypnotized by the light will be killed. However, if the lantern is somehow disarmed, the victims will be left dazed, but unharmed.
Ad blocker interference detected!
Wikia is a free-to-use site that makes money from advertising. We have a modified experience for viewers using ad blockers

Wikia is not accessible if you've made further modifications. Remove the custom ad blocker rule(s) and the page will load as expected.