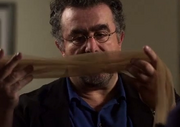 A pair of stockings that possess the power to heighten attractiveness and cause any man to become obsessed with any woman in possession of them if they come into physical contact with the stockings. Tearing them stops the effect but destroys the artifact.
Margaretha Geertruida "Margreet" Zelle was a Dutch exotic dancer, courtesan, and accused spy durring WWI. They say she used her powers of seduction to extract military secrets from her many lovers. She was executed by French troops for commiting espionage for Germany...or at least that's what they say?
Ad blocker interference detected!
Wikia is a free-to-use site that makes money from advertising. We have a modified experience for viewers using ad blockers

Wikia is not accessible if you've made further modifications. Remove the custom ad blocker rule(s) and the page will load as expected.