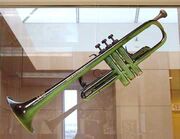 A trumpet that can hypnotize large groups at once when played. It is currently stored in the Dark Vault.
Miles Dewey Davis III was an American jazz musician, trumpeter, bandleader, and composer. He and his musical groups were at the forefront of several major developments in Jazz history, including bebop, cool jazz, hard bop, modal jazz, and jazz fusion. The Rolling Stone noted "Miles Davis played a crucial and inevitably controversial role in every major development in jazz since the mid-'40s, and no other jazz musician has had so profound an effect on rock. Miles Davis was the most widely recognized jazz musician of his era, an outspoken social critic and an arbiter of style—in attitude and fashion—as well as music". His album Kind of Blue is the best selling album in jazz history.
Ad blocker interference detected!
Wikia is a free-to-use site that makes money from advertising. We have a modified experience for viewers using ad blockers

Wikia is not accessible if you've made further modifications. Remove the custom ad blocker rule(s) and the page will load as expected.