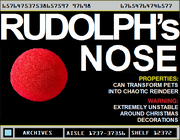 A glowing red nose that seems to make Christmas-y objects come to life, but with a noticeable aggressive attitude. Was supposedly created when a Christmas pageant went horribly wrong. It caused Christmas lights to attack Pete and a Jack Russel terrier with novelty antlers to became a rampaging reindeer. Supposedly was activated when the power on the lights was switched on. In the Aisle of Noel.
Ad blocker interference detected!
Wikia is a free-to-use site that makes money from advertising. We have a modified experience for viewers using ad blockers

Wikia is not accessible if you've made further modifications. Remove the custom ad blocker rule(s) and the page will load as expected.