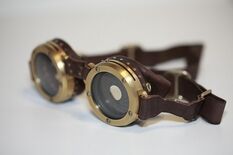 Type of Artifact

Technology

Danger Level

Medium

Current Location

Agent(s) who Retrieved

Dante Oliver

Also known as

"Le Goggles"

Country of Origin

United States

Effects

A set of goggles that allow the user to see 360 degrees around them at all times.

Activation

Wearing

Limitations

Extended usage causes various means of damage to eyesight.

Area Effected

Anywhere within eyesight.

Time Effects are Active

Damage to eyesight can be circumvented through occasional non-wear.

How to Handle

Usual protocol

Found by Agent Dante Oliver along the East Coast in 2021, and he occasionally used them before giving them to Drake briefly before his death. Not much else is known about the artifact.
Ad blocker interference detected!
Wikia is a free-to-use site that makes money from advertising. We have a modified experience for viewers using ad blockers

Wikia is not accessible if you've made further modifications. Remove the custom ad blocker rule(s) and the page will load as expected.