A group of agents based in Rio de Janeiro.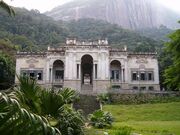 Description
Edit
The Rio de Janeiro regional base is located right under the famous statue of Christ the Redeemer. In fact in emergency situations the statue acts as a transmitter. The regional base keeps track of all South American artifacts, and then keeps them in the vault until the monthly pick up from Amelia Earhart's plane. They do keep several things on base though, such as Eva Peron's mirror, and Cortez's sabre.
Ad blocker interference detected!
Wikia is a free-to-use site that makes money from advertising. We have a modified experience for viewers using ad blockers

Wikia is not accessible if you've made further modifications. Remove the custom ad blocker rule(s) and the page will load as expected.